Due to the expected impact of Tropical Storm Idalia on our region, we are POSTPONING our 2023 Cannon Fire & Cocktails event scheduled for Tuesday, August 29th at Armature Works. We apologize for any inconvenience this decision may cause, but community safety is our priority. 
With the City of Tampa and Hillsborough County preparing for deteriorating weather conditions starting Tuesday and National Weather Center forecasting Idalia will be at Hurricane strength, we believe it is critical to allow time for you, your employees, event sponsors and chamber staff to take the level of action they feel appropriate to protect their families.
The National Weather Service is forecasting Tropical Storm Idalia will be impacting the Tampa Bay region, and the City of Tampa and various county governments have declared a state of emergency. Here are several resources to help with storm preparations and to keep you updated in the coming days.
Last Saturday, 22 Chamber members took time out of their morning to volunteer with Meals On Wheels of Tampa, demonstrating their commitment to community service and making a positive impact on the lives of homebound residents and seniors through the delivery of fresh produce.
 It was a great opportunity to give back to the community and visit neighbors who do not have much outside interaction in their lives, fostering a sense of connection and support that is vital for the well-being of these individuals.
 Meals on Wheels of Tampa is a privately funded, 4-Star Charity and a proud member of Meals on Wheels America. They proudly rely on the community for financial and volunteer support.
Once again, we had an excellent group of 75 Chamber members in attendance for New Member Orientation. At maximum capacity, the morning session included networking with fellow new members and Chamber Ambassadors. They also heard from Chamber staff members from each department about how to get the most out of their membership. Additionally, they received excellent networking training from Rick Gallegos of Dale Carnegie Training. If you were unable to register for this month's orientation, our next orientation will be held on October 3rd!
On Wednesday, we held a Pearls of Experience event at ZooTampa at Lowry Park. Not only was there excellent networking, but our group also had the privilege of hearing from an amazing panel of the zoo's women leaders. Dr. Cynthia Stringfield, Sue Pasquine, and Tiffany Burns shared their insights on the Secrets of the Zoo, highlighting their commitment to conservation and animal care.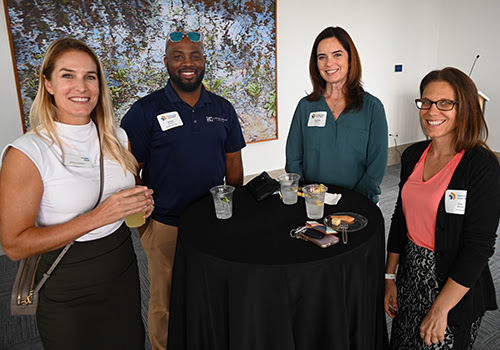 Our After 5 Networking event hosted by RSM at the Thousand & One building's 20th floor suite was a remarkable success. The event provided an outstanding platform for our Top-tier Chamber members to connect and engage in meaningful conversations while enjoying great food and a stunning view of the city. RSM's hospitality made for a conductive environment for attendees to forge new relationships while enjoying a vibrant atmosphere. The positive feedback and strong turnout reflect the value of such networking opportunities.
Measurable outcomes of the Minority Business Accelerator span five cohorts since inception. Small business owners participating in the 2-year program say the mentor-mentee component is among the transformational aspects of the accelerator.
Check out how the Minority Business Accelerator program helps participants take their business to the next level and build a legacy through the mentor-mentee relationship.