In the Mix: A Message from President and CEO Laura O'Neill Kaumo
Fall is nearly here, signaling cooler weather and the potential slowing of construction work. Unfortunately, it's also signaling (once again) the potential closing of the Federal Government since Congress is failing to enact routine appropriations bills. As we discussed earlier this year, when America avoided defaulting on obligations connected to raising the debt ceiling, there are real world scenarios connected to Congress's failure to act.
The new Congressional fiscal year begins on September 30, and Congress must enact either a continuing resolution (CR) or regular appropriations for FY 2024 by the end of next week. While the Senate has been trying to advance a three-bill "minibus" appropriations package (which includes the Transportation-HUD bill), House leaders have introduced a one-month CR with controversial border security provisions attached. Senate GOP leadership has not shown any signs of movement and is deferring to the House to act.
In the event of a shutdown, FHWA would remain open and construction work should continue on federal-aid highway and bridge projects without interruption. Airport construction activity is dependent on the local airport authority's decisions on how to manage their capital programs under a shutdown, so projects may be suspended. As FTA and FRA employees are paid from general funds, the agencies would not be able to obligate new grants until the agencies reopen. There are certain sequestration triggers that may be implicated in the event of a shutdown, but we will save those for another day if the government closure persists. We've been here before folks, let's hope cooler heads prevail before there are real consequences.
In other news, ACPA would like to thank GOMACO for continuing to host is annual golf outing in Ida Grove, IA. The outing hosts dozens of contractors for a customer appreciation event that truly has become a staple for the concrete paving industry. Thank you to Chairman Steve Friess of Milestone and future Chairman Don Weaver of Weaver Bailey for making the trip, and ACPA Board member Bryan Beck of GOMACO for making it all possible for us to participate. Golf, great food, and opportunity to network on crisp late summer Iowa days is time well spent.
Lastly, as we move into the final quarter of 2023, ACPA needs your help with three things, and seriously, you won't regret it:
Don't forget to register for ACPA's Airport Workshop from October 24-26th in Denver, CO. The agenda is packed with incredible airfield paving speakers and topics.
Book your hotel room for ACPA's Annual Meeting at the JW Marriott in Marco Island, FL December 12 – 14 – while meeting registration remains open for a while, our room block is 85% full. Book today.
#PushtheCode – if you plan to attend 2024 World of Concrete, register using code A14. By registering with this code, you are helping to support ACPA's education, technical, and advocacy services. Register with A14 and tell a friend or sign up a coworker with it too. #PushtheCode!
Looking forward to a productive Fall (not you Congress) with lots of ACPA technical sessions, meetings and workshops that help our valued contractors employ cutting edge techniques and cost-saving measures on quality paving projects.
On the Grade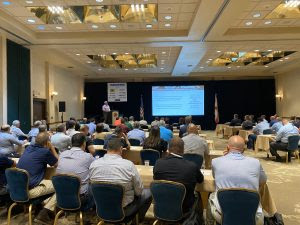 Chairman Friess and Ferrebee Participate in Florida Pavewise Conference
ACPA's Chairman of the Board Steve Friess and ACPA Senior Director of Technical Services Eric Ferrebee recently attended the Florida Pavewise conference. The conference was hosted by ACPA affiliate chapter the Florida Concrete Products Association. Friess provided updates on ACPA National, and Ferrebee presented on sustainability priorities including the ACPA white paper on sustainability.
Learn more about conference here.
Martin and Scofield Network at NCC
Last week also marked the Fall National Concrete Consortium (NC2) Meeting in Portland, OR. ACPA's Engineering Services Consultant Tim Martin and Director of Pavement Innovation Larry Scofield attended the conference to network and hear from over 150 industry experts, state DOTs and decision-makers. The conference included updates from federal agencies, new research presentations, industry tracks and state DOT presentations.
Read the full agenda here.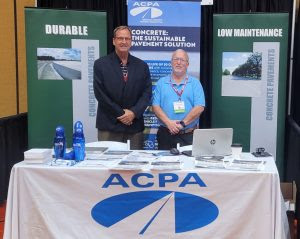 ACPA OK-AR Chapter Represents ACPA at NASAO
Thanks to ACPA's Oklahoma/Arkansas Chapter for representing their chapters as well as National at the National Association of State Aviation Officials (NASAO) Conference last week in Rogers, Arkansas. The conference draws hundreds of aviation officials from around the country. Brent Burwell, Executive Director, and Alan Meadors, Promotional Director for Arkansas, met with attendees and shared the value of ACPA in the airfield space.
Learn more about the NASAO Conference here.
Chairman Friess and Scofield Participate in Preservation Conference
This week, Chairman of the ACPA Board of Directors Steve Friess and Director of Pavement Innovation Larry Scofield attended the National Pavement Preservation Conference in Indianapolis, IN. Friess shared updates on ACPA's concrete paving priorities and Scofield presented on fundamentals of pavement preservation and took part in a panel of experts on key preservation issues. Other partners and members also took place in the conference including the CP Tech Center, Milestone Contractors LP, and CTS Cement.
Learn more about the conference here.
Registration Still Available for Airport Workshop
There is still time to register for the Best Practices in Airfield Paving Workshop from October 24-26th. Held in Denver, the three-day workshop program will feature technical presentations by subject matter experts with practical experience in the topic areas.
Leading the discussions will be experts from the U.S. Army Corps of Engineer's Transportation System Center, the Federal Aviation Administration (FAA) Headquarters Office of Airport Safety and Standards, Air Force Civil Engineering Center, ACPA, and companies with direct involvement in the design and construction of FAA and Tri-Services projects.
Registration closes October 20th, so make your plans today!
Read the full agenda and register here.
Annual Meeting Room Block Reaching Capacity
The room block for this year's 60th Annual Meeting from December 12-14th in Marco Island, FL is reaching capacity. Now is the time to register, make travel plans, and secure your room at the discounted rate.
This year's meeting promises high quality keynote speakers, timely Concrete Pavement University sessions, an elevated Excellence in Concrete Pavement awards gala and meaningful industry networking between members. Do not miss celebrating 60 incredible years of ACPA gatherings.
Learn more and register here.
Sponsorship Opportunities Still Available
Sponsorship opportunities for 2023-2024 programming are still available. Options for sponsorship include both full-year and a-la-carte opportunities for all members. Sponsoring ACPA events allows your business to reach over 400 contractors and other members who attend these events. As a sponsor, ACPA will work with you to tailor company visibility and create impact with new customers, prospect, allies, and associations.
Additionally, limited booths remain for this year's Annual Meeting. They are limited and first come first serve and are selling fast. Early bird pricing is available while booth space is still available. Put your business in front of our members with this unique opportunity.
Learn more about the program here. Reach out to Anna McMullen at amcmullen@acpa.org with any sponsorship questions.
ACPA Hosting Sustainability EPD Kickoff Webinar
Join ACPA on Friday, October 6th for a kickoff webinar at 1pm EST/12pm CST highlighting new technology that will be made available to members on helping them produce EPDs. More information coming soon but secure your spot at the webinar by registering here.
South Dakota Chapter Celebrates 100-Year-Old Pavement
Next week, the South Dakota Chapter of ACPA, along with South Dakota DOT, will be celebrating one-hundred years of the first concrete highway constructed by the South Dakota Department of Transportation in Sioux Falls in 1923. The original segment is approximately 9/10-mile length and 20' wide x 6" thick. There will be a short celebration on September 27th in Sioux Falls at the site of project. This pavement along with so many around the country tell the story of the sustainability and resiliency of long-lasting concrete pavements.
Registration Open for Southeast Chapter Fall Concrete Pavement Conference
Registration is now open for the SE Chapter's Fall Concrete Pavement Conference from November 28-29 in Concord, NC. The workshop is in partnership with the North Carolina DOT and will showcase modern PCCP paving practices that lead to long-lasting concrete pavements. PDHs are available for those who attend the conference. Additionally, there are sponsorship options available for members to showcase their business to members.
Learn more and register here.